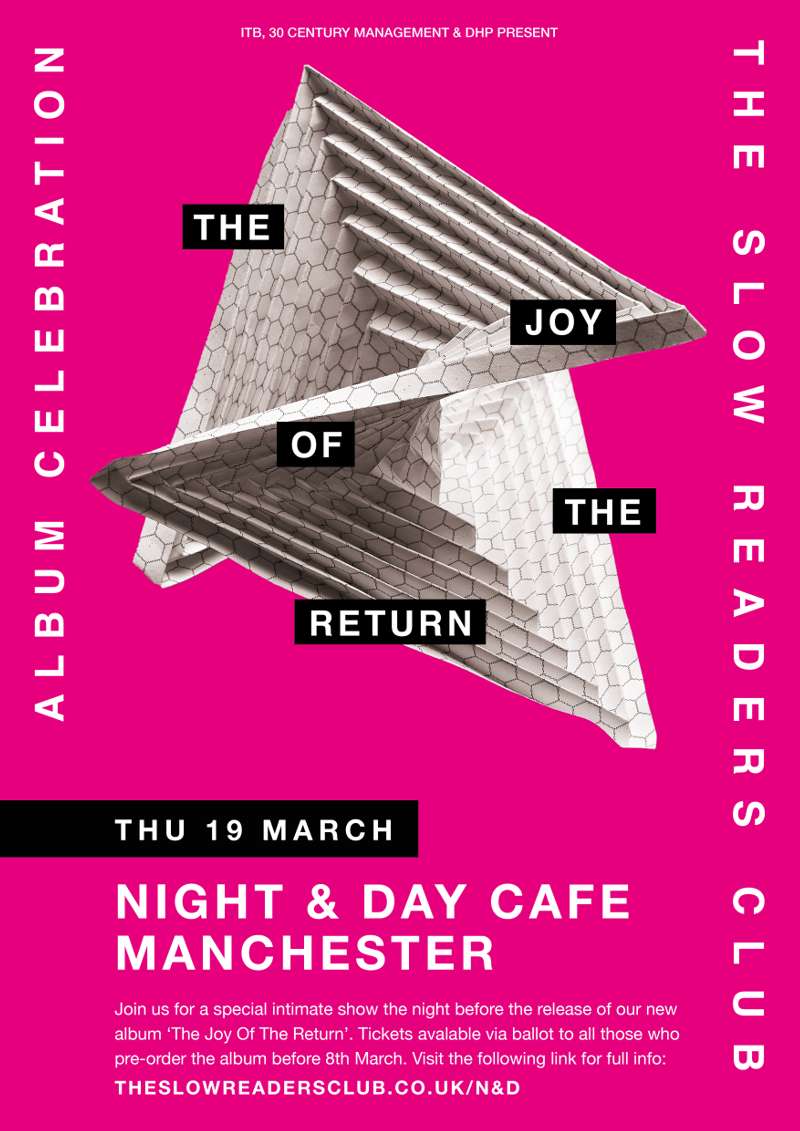 DHP presents:
Album Launch Show
The Slow Readers Club
£5.00
Entry Requirements: 18+
THIS SHOW SOLD OUT IN 3 MINUTES, THANK YOU!
To celebrate the launch of our new album "The Joy Of The Return" we're playing a special intimate show at Night & Day in Manchester the night before it's release.
To access the chance to get tickets, please pre-order the album from www.theslowreadersclub.co.uk before 8th March 2020.
Week commencing 9th March 2020, you will receive an email to activate a Ticket Access Pass to your Music Glue account.
You will need to do this in access to get tickets when they go on sale on 12th March 2020 at 10am from THIS PAGE RIGHT HERE!
PLEASE MAKE SURE YOU ARE LOGGED INTO YOUR ACCOUNT TOO! NO TICKETS ARE AVAILABLE BEFORE THIS DATE.
Two tickets max per Ticket Access Pass.
STRICTLY 18+
Please note, this is a slightly different mechanism to the recent Dancehouse event.
For further FAQs, please see down the page below the image.
Any questions, please contact mgmt@30centurymanagement.com
How do I get a Ticket Access Pass for the Night & Day Album Launch Show?
To get a Ticket Access Pass, please pre-order "The Joy Of The Return" here.
You can pre-order any format, 12" vinyl, CD or cassette, on it's own or in bundles.
What is the Ticket Access Pass?
The Ticket Access Pass will give fans purchasing "The Joy Of The Return" pre-sale access to tickets to the special Album Launch Show.
How do I use my Ticket Access Pass?
After you have activated your account using the link in the welcome email you can return to the store and sign in via the user icon in the menu bar.
Please ensure you check your spam / junk folders for your welcome email.
Ticket Access Passes are added to your specific account and cannot be transferred.
When you are logged in tickets will be available for you to purchase on Thursday 12th March at 10am. Please note if you are not logged in you will not be able to see tickets. No tickets are available anywhere before this date and no other retailer will be selling tickets.
To check if you have properly activated your membership, please log in here and click "Your Membership" - if you have, a Ticket Access Pass will be visible.
If you have any questions please contact us on mgmt@30centurymanagement.com
When will I be able to purchase the Album Launch Show tickets for March 2020?
Tickets will be available on Thursday 12th March at 10am GMT from www.theslowreadersclub.co.uk/live-dates
No tickets are available before this date.
Does a Ticket Access Pass guarantee me a ticket?
A Ticket Access Pass only gives you access to purchase a ticket and sales will be made on a first come first served basis.
Should tickets sell out on pre-sale, then no tickets will be available on general sale.
How many tickets can I get per Ticket Access Pass?
Due to the very intimate nature of these shows, you can get two tickets per customer.
If I already pre-ordered the album will I get exclusive access?
Yes. If you've already ordered from The Slow Readers Club store, you'll be eligible for exclusive access, but only if you apply the Ticket Access Pass to your account which we will contact you about via email week commencing 9th March.
What if I order from a different retailer or store, do I qualify for exclusive access to tickets?
No. To qualify for exclusive access, you must order from The Slow Readers Club store.
Availability of tickets will be dependent on the number of customers, so please note pre-sale access does not guarantee you a ticket. However, it will give you a better chance of being able to buy one.
To purchase a ticket without purchasing an album, please go here. You can also purchase the new album here..